If your country is friendly toward Russia, China, or Iran, then today's American Government is probably applying subversion, economic sanctions, or maybe even planning a coup, or (if none of those will succeed) probably is war-gaming now for a possible military invasion and permanent military occupation, of your country. These things have been done to Russia, Iran, China, Yugoslavia, Venezuela, Bolivia, Ecuador, Cuba, Ukraine, Georgia, Indonesia, Vietnam, Iraq, Libya, Syria, Lebanon, Yemen, and some other countries.

However, after the 9/11 attacks in America, the U.S. Government has added another system for selecting countries to immiserate, and those are mainly the countries that already suffer the most misery — some of them are countries that were listed above, but others (many others) are not, and are selected instead largely because they are already in misery, and also because America — that is, the Deep State which controls it, America's hundreds of billionaires, who control international corporations and the press in America, and not just control the politicians who win public offices — wants to control the given target country in order to extract its natural resources or simply in order to place some of U.S. military bases there so as to be better able to invade other countries.

This relatively new category of America's targeted enemies was invented, mainly, in 2003 and 2004, by Thomas P. M. Barnett, a Professor at the U.S. Naval College and columnist and writer for various popular magazines, as well as of best-selling books. His 2004 book The Pentagon's New Map, presents that map, to show the areas, mainly around the Equator and including all of Central America; plus all of South America except Chile, Argentina, and Brazil; plus all of Africa except South Africa, all countries of which are supposedly not connected to globalization — i.e., they are Third World instead of First World — and he says that they are unstable and therefore need to be policed by the world's policeman, which is the U.S. Government, to serve there as the judge, jury, and executioner, of anyone who lives there and who resists that judge, jury, and executioner. His key statement is on page 227, "A country's potential to warrant a U.S. military response is inversely related to its globalization connectivity." Here is the map, which shows which countries are supposedly high globalization connectivity and therefore inappropriate for America to sanction, coup, or invade and occupy; and which countries are supposedly low globalization connectivity and therefore appropriate for America to sanction, coup, or invade and occupy: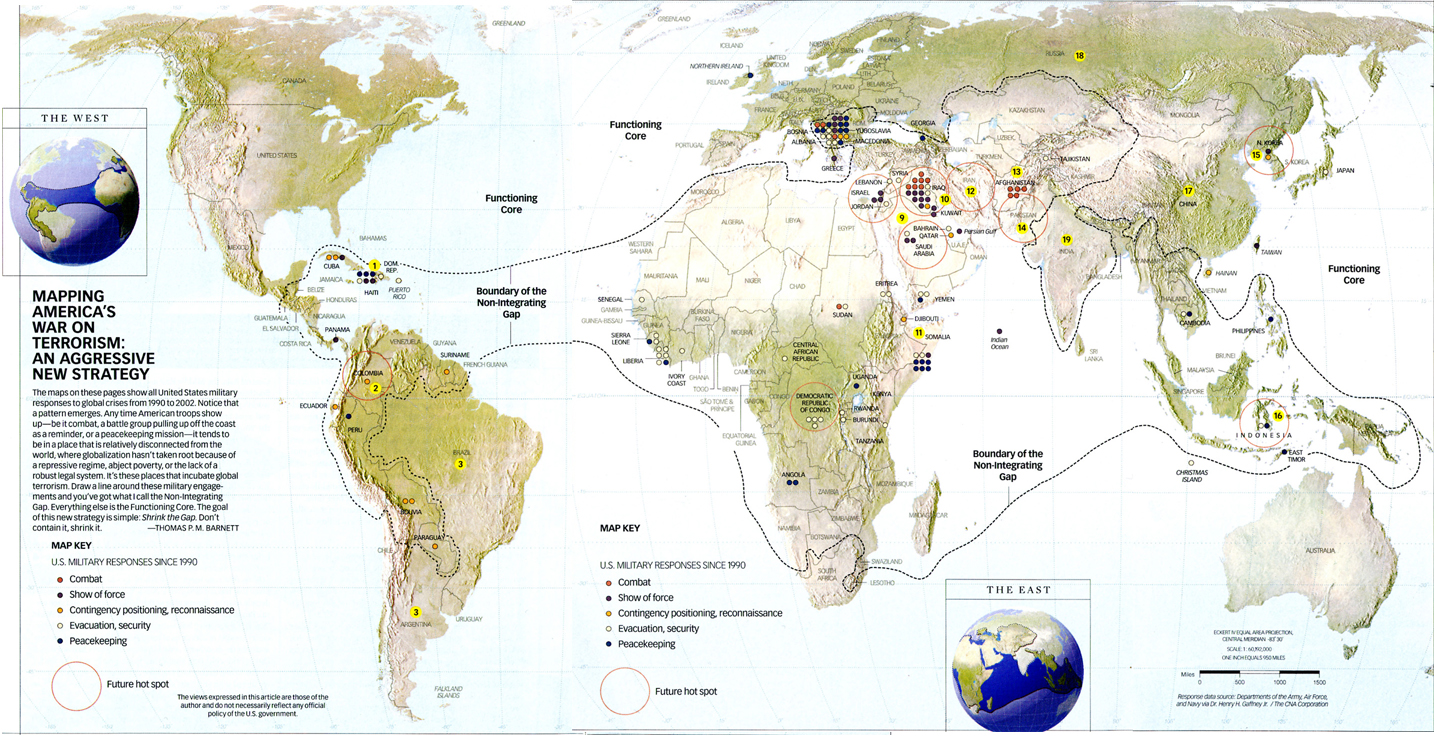 As can be seen there, the following countries are not to be policed by the U.S. Government: Canada, U.S., Mexico, Chile, Argentina, Brazil, UK, Greenland, Iceland, EU, Switzerland, Ukraine, Georgia, South Africa, Russia, Mongolia, China, India, Japan, South Korea, Australia, N.Z.

He calls those the "Globalized Functioning Core." All others are "the Non-Integrated Gap" countries, America's virtual free-fire zones, to control so as to 'prevent terrorism'….
https://www.strategic-culture.org/news/2020/02/24/how-to-know-if-america-is-your-enemy/
Such is the state of american education that the vast majority of "intellectuals" don't even concern themselves with enough science to know whether the official 9/11 story even makes physical sense.    Or maybe they know and they don't care as long as they can make a career of stupidity.
The enemy is within the gates.